As those listed on my friend's list would know, I was starting to feel burnt out of FFXI. I had even talked to Derrick about the possibility of shelving it for awhile or even quitting. There were several things that just really wore on me, and it frustrated me to no end because games shouldn't have to be frustrating. They need to be fun! Something was missing and I started not to have fun. Well, until today. I had to stay home today because I had threw up the night before and our work place has a policy stating that we must way 24 hours before being able to return to the facility. That is if, of course, you don't throw up again. It kind of sucks because I like to work, but its fully understandable because the last thing you want to do is put all the kids and teachers at risk.
Anyway, after trying to download the patches last night, I decided to give the new Signet for a spin. If you didn't guess by my title, yes, I am in love with the new Signet. For those who enjoy small parties or soloing, then you will absolutely love this new patch. I was able to take my NIN out and slaughter things, rest, and continue to slaughter things without losing my TP in my quest to avoid parties and get my NIN properly leveled for subjobs. I'm crazy, I know.
My quest didn't stop there and I wanted to further test things out. Mostly this:
Increased defense and evasion against attacks from your auto-attack target

If an auto-attack target is an "even match" or weaker, players will gain a bonus to their defense and evasion against the monster.
This bonus only applies to attacks from an opponent who you are auto-attacking with a drawn weapon. No bonus will be obtained when attacking in a manner other than auto-attack, or when being attacked by monsters that unexpectedly join the fray.
To soloing bards, you know how difficult it is to kill things easily/effectively unless you're pimped out. I'm not pimped out. I'm far from pimped out. Not to the point of being gimpy, but still not as sexy as Manteel or Osode strutting bards. At any rate, I took my NPC out to be on the safe side and started to attack Shades in hope of getting the ever so elusive Tavnazian Bell. I had obtained it once, failed at the fight, and found that it was near impossible to get the damn item again. Even with the help of a high level THF, hours of farming, and getting people to help me out, it seemed stupid that the damn item wouldn't drop after a few sessions of farming. Well, not only was I able to survive an attack against the Shade without getting near death, but I received this sexy drop on the first kill:
orz
I continued to assault more Shades in hope of collecting three bells to take with me. I figured, why not take advantage of it if one was able to drop on the first kill? I managed to get more but was insulted by mp NPC as we decided to take a break and rest up…
Stupid Romidiant! Counting to three? THAT IS MY LIFE. For some reason it gets kids and my dork of a boyfriend to get their gear in check when I start counting to three. Jeez.
After he left me to hit on some Mithra time ran out on my NPC, Reiokyu came to help me get my last Bell and we headed to fight the WHM AF 3 NM for round 2.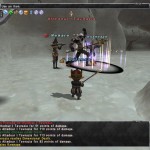 It was a shakey fight, but thanks to Insaneazn, Mekare, and Reiokyu (even if he did get his ass whupped on severely), we were able to finish and get my mask! Hooray!

Sadly, I really didn't have much energy left to stay further in the game and actually get my AF piece. When you're stomach hurts and is causing you to feel like you're several months into a non-existent pregnancy? Yeah, that's about the time you need to get going. Lets not even get to the talk about the vomit, bad breath, and the need to just get a sleeping bag to camp out near the toilet. Disgusted? Don't worry, I have another treat as to why the new Signet patch kicks SO MUCH ASS:
Nuff said.