In case you were wondering or are unable to read the title (you'll need to have JP font enabled), the title is read "kita". If you're familiar with the manga/movie/drama/whatever story of Densha Otoko, frequent 2ch or 4ch, or just know a lot of Japanese, then I don't think I have to go further. For the rest of you who don't, it simply means either that "I have come/arrived" or that "It has come/arrived"! And if you've been paying attention to an entry made sometime last week, then you know exactly what to anticipate behind the cut later on! ;)
Before we get to that, I took a rare day off (other than me being sick and all) and used the time to spend with my new LS. We were aiming to do a BLU set session, but that never took place due to personal reasons. On the other hand, I went up to the ol' Tree and got a few skill ups on dagger and sword. Wasn't many, but I'll take what I can get! There were a few who were getting the item needed for Windurst 9.1, another who was getting Sleepga II done, and many of us just seeking to either have some fun or skill up.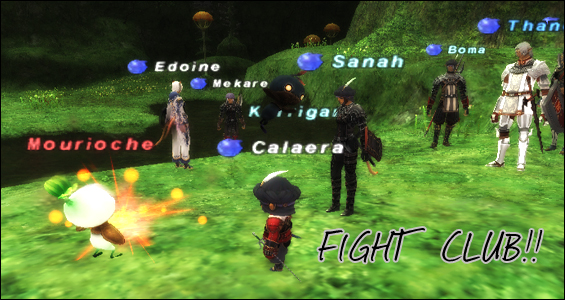 Afterwards, Mekare asked a few people if they could get together at the last minute and help me finish Windurst 8.1. I have been on that mission for who knows how long, but never really made it a point to get it done. I figured it would get done when it would get done, and well… it got done! During the skill up session and the mission, I couldn't help but feel rusty. That one month break really did a number on me, and I found myself forgetting how to get to point a and b. It was worse when I was beginning to get paranoid over songs for what situation, but I kind of just sailed along with it. I figure if people do think I'm a bit off, I can just play myself off as one of those people who leveled up bard not caring if Ballad landed on the melees or not.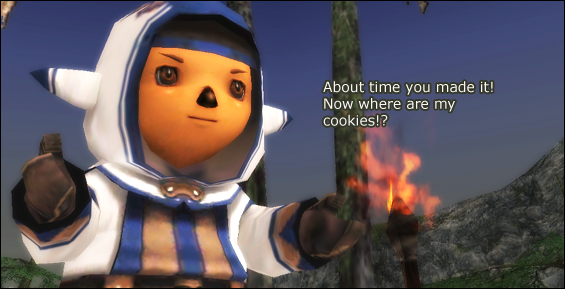 Of course, I have mostly Edoine, Tyrian, and Mekare to thank for, since they took the time out to help me get this mission done. I'm still sorry for the deaths, but still very grateful to have this mission done once and for all. That doll was starting to drive me BATTY. I just wish I could have stood on Tomoky's shoulders a little longer so that I wouldn't have to have everyone /sit in order to be on my level…

Its ok. One day the Tarutaru will own the world of Vana'diel with our trusty Mandragora HNM at our every beck and call. Mwhahaha!
Ok, now the part I'm sure Maiev is waiting for…
I don't have many pictures as I just got home, opened the boxes to make sure everything was there (had a scare when I only saw the laptop and case; no battery or adapter! Later found it on the OTHER side of the box!), and then load it up to drool at it before eating dinner. I'm also tired since I played Mario Party DS instead of taking a nap on the ferry… /stagger
First of all, let me say one word that sums up the Sony SZ when you see it: WOW. The carbon fiber finish is sexy as hell and the weight? Its barely noticeable! Its also very thin and did I mention sexy?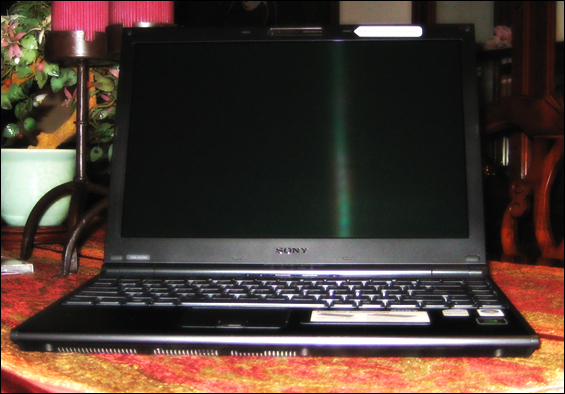 I had been worrying over this purchase for awhile, because I really wanted to make sure that I invested in a good laptop. I don't expect it to last a lifetime, but I do expect it to last longer than half a year (2 would be awesome) and it needed to both look good and be sturdy. The SZ fits the bill despite its clicky keyboard, but that's ok! I kind of like the clicky sounds anyway.
Of course, when I get the chance, I'll be toying around with it as much as possible before deciding to take it to bed with me. I'll do cross comparison photos with the SZ to the CR since my father owns the other Vaio in the house. In the meantime, I was able to take a photo comparing my current monitor to the size of the SZ.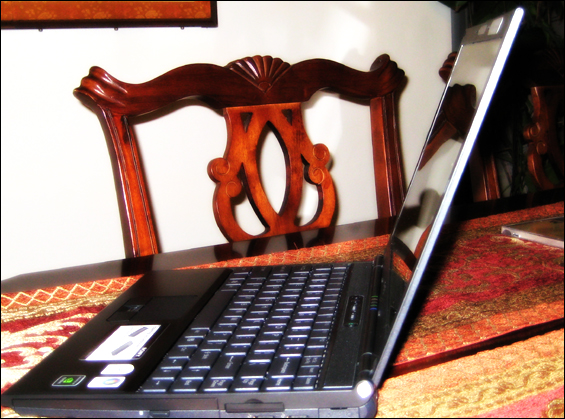 Oh yeah, did I mention how THIN that screen is? The 1520 had a huge, thick screen. When I went to Best Buy to try out the SZ, my jaw nearly dropped when I saw how thin this screen was! I wasn't expecting it to be so thin! I was almost afraid I was going to break it by just touching it! Too bad I'll be attempting to attend a work party tomorrow (if I don't end up sick), and doubt I'll have more time to play with my new toy. Ah, how I look forward to the upcoming weekend!