When I made my return to XI, I wasn't sure at what capacity I would be coming back. After all, I have a full time job and its one in where I work extra hours because I both have and want to do so. There is also XIV to consider, which has been made into a weekly event between friends to do leves. So I am here chipping away at getting my BLU, BRD, and WHM to 90, getting Atma, gear, doing missions for friends and for myself, and doing Dynamis for gear and money. Its been a fun ride, especially since my little group has expanded to the people I met and played with on XIV, or have talked to during my short tenure at ffxivblog.com.
I am not even sure where to start concerning my adventures, so I will first start with Tuesday from last week and work my way down the week.
For a few weeks, a friend had been asking me to join her and a few of my other friends in another LS to do Abyssea NMs. At first I said I wanted to wait until I reached 90, then I held off on it for a few other reasons, and then decided to go on a whim just to see how it was going to be. To be honest, I was very worried at first. I think I am a so-so player, and I can be ok at times but… I hadn't read up on anything concerning Abyssea NMs and knew nothing except for what my friends had told me briefly.
We did several NMs, ended up with clears to Abyssea – Konschtat and Abyssea – Misareaux as well as a slew of Atma I didn't think would fall onto my lap. I even ended up helping to kill Arimsapi and freaking out when I found myself having to kite him around a few times since only a RNG and I were able to do damage to him. Needless to say, it was fun and I was really happy to be invited to tag along. It surprised me further, despite messing up a few times due to a misunderstanding concerning a Stun macro, that I was asked to come back and that I did an alright job. Then again, I had to interact with players that really made me want to face palm at times and actually helped change how I see myself as a player at times. Which, sad to say, is not as dumb and hopeless as I usually think I am.
Wednesday was a Dynamis San d'Oria run, and had me rushing due to a work place meeting. I usually take at least an hour nap before hand, but was yawning so much and so tired I had dozed off a few times for a minute before realizing what was going on. Sleep = good and it seems as I age I do need more than the typical five hours of sleep I get. Either that or I end up waking up with a corner of drool wanting to dribble out of my mouth…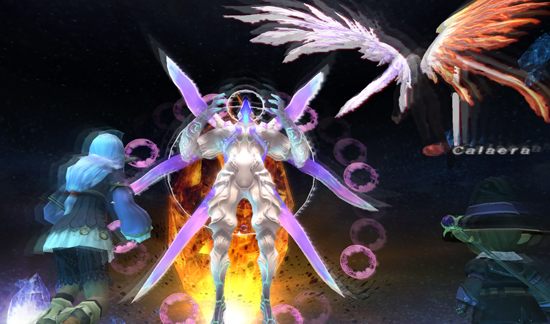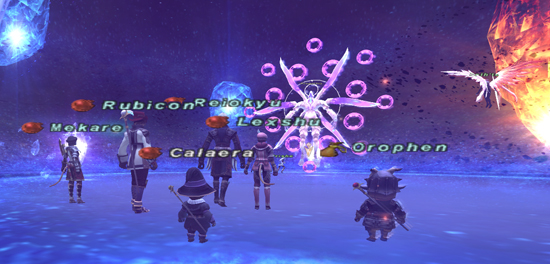 What I was really looking forward to anything else was Thursday and helping Lexshu/Frei and Rubicon finish their CoP mission. The last time I had done this was when I did the clear for myself, Reiokyu, Hiroshiko, my brother (Makai), and Orophen. I was BRD at the time but I remember clearly how my brother had helped save the day thanks to my BLM. Its sort of funny how I had came back to fight Promathia not as a support job but as the very job my brother used to irk me as. It was most definitely shorter than the run I had gone through, and made me miss the longer and much more epic fight we had to endure when we were still 75. It didn't help any that we didn't even get to see Promathia deal any of his deadly attacks, since most of the time we were just whacking away at him and watching him poking someone and keep going on.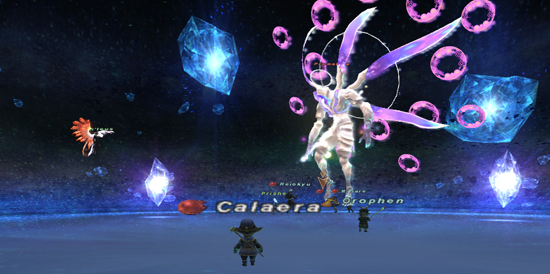 Afterwards we decided to go hunting down my BLM shoes in Abyssea – Attohwa and then got my WHM to 70. Of course, getting to that level meant a whole new stress and worry with wanting to get Raise III. Although it isn't as necessary due to the fact EXP is a non-issue with Abyssea, I get uneasy not having spells. Heck, I'm still distressed that I don't have Fire V, Blizzard V, and Firaja. I could and might buy it, but knowing I could potentially get it free is what prevents me from wanting to fork over the cash that could be used to gear up my WHM for leveling or what have you. Anyway, back to the talk of spells, Reiokyu, Lexshu, and I decided to go tackle E-VASE-ive Action for a chance at Raise III.


It took three tries and the scroll dropped! I find this amusing especially in light of last night. Orophen has been going on and on about my luck. I used to joke about it before because I would sometimes out lot just about everyone in the party with insanely high lots. I was even accused of cheating some how because of how consistently I would lot high numbers and gank just about everything from the treasure pool. I had even (for kicks) put myself into the same party as my friends so that someone could have a chance at Peacock Charm dropping. It dropped then, much to my astonishment, because I didn't really think much of it. So its with surprise that we managed to go into Assaults the other night, found Jaggedy-Eared Jack for the second time during our second run, and found that the ??? Necklace that dropped was actually a Rabbit Charm. Its the item that my friends have hunted out of principle (the rabbit has usually bested them), and here I was seeing the mob for the second time in my time on XI and seeing the item get into pool easily. Needless to say, it was that very reason I was asked to go Blizzard IV hunting in KRT and found 2/3 of the scrolls we needed dropped. Luck? Maybe. Considering my friend claims that he's bad luck, maybe it is. Or maybe someone in XI heaven decided to smile upon us and treat us to something good?
I just wish that whatever luck people think I have would apply to my ability to learn spells. Cause BLU spells? Yeah. Not really happening unless I get help. -_-; And even then its not even me who will learn the spell…. /facepalm
I'm really enjoying my time back in XI though. I just wish there was more time in the day to do more stuff. Even more surprising is how much I have fallen in love with BLM. I had come back with the intention of being more in love with my BLU but am more enamored by my BLM and am wanting to do nothing more than dote and learn more as BLM. I still have a long way to go in terms of pushing my damage numbers, but in the meantime? I'm having a blast, and am really happy to have more friends to surround myself with. <3